Certified Diamonds & Certificates
Types of certificates and lab reports available
All diamonds supplied in our jewellery are 100% natural, earth mined and none treated. Our diamond jewellery is conflict free and will be supplied with a certificate of authenticity which doubles as a certificate for insurance replacement.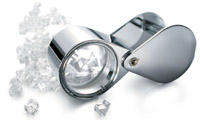 Example of the Lloyds Family Jewellery certificate
Our certificates declare the following: We confirm that all items of jewellery specified in this document are authentic. All materials used are genuine and all metals are hallmarked. Diamonds supplied are conflict free and all gemstones are non-synthetic. Value stated is based on price current at the under mentioned date.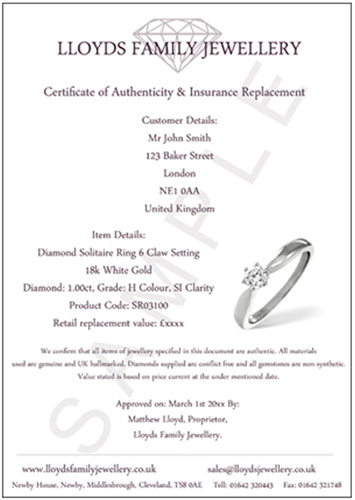 Why are some items not supplied with a Laboratory Certificate?
Items with multiple diamonds may not come with a certificate as laboratories have limits on the size and number of diamonds to be certified in a single piece. In a bid to offer low prices on high quality diamond jewellery we offer our own authenticity certificates free of charge. Certificates from reputable labs such as GIA carry premiums and can increase the cost of diamond jewellery considerably. However we can supply GIA certified diamonds with our bespoke jewellery, we can then discuss all aspects of the diamonds and tailor the specifications to your budget.
We can supply certificates from a number of Laboratories: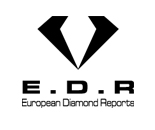 Many of our 18k and Platinum jewellery is EDR approved (this will be stated on the item specification) meaning the diamonds have been assessed by EDR as an impartial third party, they will confirm the colour, clarity and total weight of the diamonds. Certificates can be supplied for an additional cost of £25 for a small credit card sizes certificate, these can be requested at any time as all details are kept on file for each piece of jewellery. One certificate is supplied for the complete piece as our jewellery uses matching grade diamonds. Please note gemstones are not included on the certificate.
Message from EDR: Our reports give you peace of mind and confidence that our professional and experienced Gemmologists can provide you with all the relevant details that you require about your diamonds. At EDR we use the latest Diamond Grading tools in our fully equipped Laboratory, so you can be safe in the knowledge of our professionalism in giving you the most accurate details of your diamond. EDR has a fully equipped diamond grading laboratory, located in Hatton Garden, the UK's diamond centre. Ultimately our aim is to provide a service of re-assurance for the authenticity and quality of diamonds we grade.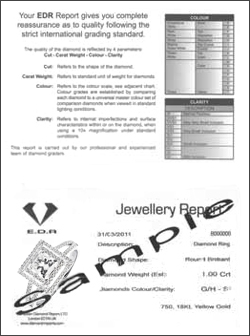 ---

WGI diamond reports cover the four C's which are cut, colour, clarity and carat weight as well as an In-depth diagram which will give you a clear measurement and understanding of the diamond's proportions. Prices vary depending on the size and detail of the certificate, please note grading is restricted depending on whether the diamond is loose or mounted
For over the past 30 years the World Gemological Institute (WGI) along with our team of expert staff and Gemologist have build a solid standing reputation as one of the leaders in the Industry. Our appraisals and lab reports are recognized worldwide by insurance companies, retailers, private jewelers and wholesalers.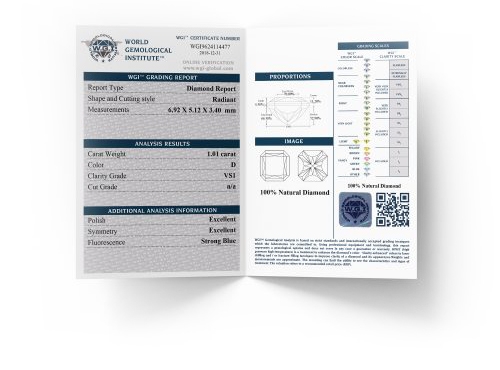 ---
Each diamond is scientifically analysed by several gemmologists who use their experience combination with state-of-the-art equipment to produce an accurate description of the characteristics of the diamond and the quality of its cut. With its detailed information presented in understandable language, the different qualities of a diamond can be truly appreciated.
The IGl Diamond Report is essentially a statement attesting to the authenticity of a diamond and provides a reliable and accurate report of its identity and grade based on an internationally recognized system.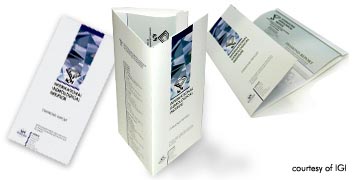 ---

For more than 50 years, fine jewellers everywhere have considered the GIA Diamond Grading Report the premier credential of a diamond's authenticity and quality.
The GIA Diamond Grading Report includes an assessment of a diamond's 4C's – colour, clarity, cut, and carat weight – along with a plotted diagram of its clarity characteristics and a graphic representation of the diamond's proportions. For standard round brilliant cut diamonds falling in the D-Z colour range, the report also includes a GIA Cut grade.
The GIA laboratory issues diamond grading reports for loose, natural diamonds in the D-Z colour range that weigh 0.15 carats or more. GIA Diamond Grading Reports are not issued for synthetics, simulants, mounted diamonds or those that have undergone unstable treatments, such as fracture filling or coating. And while reports may be issued for diamonds that have been laser drilled or HPHT processed, these stable treatments are prominently disclosed on the report.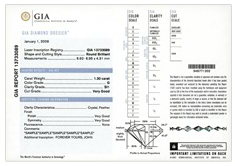 ---
www.diamond-reports.com | www.anchorcert.co.uk | www.igiworldwide.com | www.gia.edu