Lloyds Family Jewellery Diamond Guide
The 4 C's: Cut, Colour, Clarity & Carat Weight
Quick jump to a section
Diamonds at Lloyds
Welcome to our diamond guide, here we will give you the basic knowledge needed to make an informed decision on the diamond grade that's right for you.
Lloyds Family Jewellery only trade in 100% natural, none treated and conflict free diamonds.
Diamond Grades Explained
At Lloyds Family Jewellery we offer 3 Diamond grades readily available. You may want to read up about the 4 C's on this page to get a better understanding of the grades below.

Grade 1. Colour: H-J (Near Colourless), Clarity: I1-I2 (Included)
(provided in items that do not specify a particular grade)
These diamonds are a standard grade giving you more diamonds for your money, higher grade diamonds as discussed below are more valuable. These diamonds are near colourless with no easily noticeable colour tint to the untrained eye. Inclusions in the diamond may be noticeable to the naked eye. Inclusions have an effect on brilliance although these diamonds still give a nice amount of sparkle. This grade is generally provided with 9k gold items, see below for an example of I1.

Grade 2. H/SI (H Colour/Slightly Included)
This means the diamonds are no less than H grade colour (near colourless) as you can see on the scale below, and SI clarity meaning slightly included which you can also see below. These diamonds are a higher grade meaning they give more sparkle with a whiter looking colour, they are also more valuable due to the rarity of higher grade diamonds.

Grade 3. G/VS (G Colour/Very Slightly Included)
An exceptional grade, this means the diamond is no less than G colour and VS clarity which means Very Slightly included (you will see a more detailed description of what inclusions are below). These diamonds are classed as colourless with only slight inclusions meaning they give a beautiful amount of brilliance (sparkle), they are also much more valuable than lower grade diamonds due to the rarity of these high grade diamonds.

Diamonds Explained
Diamonds are a rare composition of pure crystallized carbon, formed under extremely high heat and pressure deep within the earth. They are aged between 1 and 3.3 billion years old (up to 75% of the earths age) and are brought close to the surface by volcanic eruptions. Most Diamonds contain impurities, not defects but better to think of these as birthmarks which makes each diamond unique, most impurities can not be seen with the naked eye. Diamonds are the hardest natural substance on earth, the name diamond comes from the ancient Greek Adámas meaning "unbreakable". Due to their incredible optical properties and hardness, diamonds are the most prized of all gemstones.
The Four C's
The best way of grading a diamond is by using the four C's as shown below, then combining these to give the grade and to help calculate the value. Diamond pricing is a complicated process and takes many other factors into account as well as the four C's. The four C's were established by the Gemmological Institute of America (GIA) and has since become the international standard for diamond grading.
Staff at Lloyds Family Jewellery are trained by GIA and are certified with the Diamond Essentials certificate.

Diamond Cut
Cut has a big impact on the beauty of diamonds, the word cut has several meanings when it comes to diamonds. The cut of a diamond does not only mean its shape (round brilliant, princess, oval, cushion, etc.) but also addresses the proportions, symmetry and polish of the diamond.
The cut determines the diamond's brilliance (white flashes) and fire (light split into all colours in the spectrum, red, yellow, green etc.). A properly cut diamond will reflect the light that enters the diamond and return it through the table to produce the much desired sparkle. The angles should be within the correct parameters to optimize the reflection of light back to the eye. The proportions, polish and symmetry are graded from excellent to poor and together make up the diamonds cut grade (the best being triple excellent). You will only find cut grade on comprehensive diamond reports for a single diamond.
Diamonds can be cut in various shapes including;

Baguette Cut: The baguette cut diamond is often forgotten as it is mainly used as an accent stone. It has a simple step cut, not to be confused with the Emerald cut. Unlike the Emerald cut it has pointed edges and is generally used in channel settings. Eternity rings featuring Baguette diamonds in a channel settings are very popular as well as complementing centre stones by being set on shoulders, tapered baguettes are also popular for shoulder settings.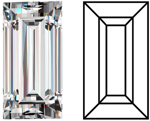 Diamond Colour
Diamonds are not only colourless as many people think, most diamonds have tones of faint yellow or brown, the higher a diamond is towards the top of the colour scale, the more rare the diamond becomes and therefore more valuable. Diamonds can also be found in a variety of colours and hues such as Pink, Red, Blue and Green, these are known as fancy colours and are graded separately from the usual colour scale. Fancy diamonds are much rarer than the more common and sought after colourless diamonds. With 'white' diamonds the less colour the more valuable the diamond becomes, faint signs of yellow or brown can decrease value. Colours are graded in letters from D meaning colourless all the way to Z meaning light yellow or brown. The scale does not include the letters A, B or C, as to not confuse the scale with older, less accurate methods of grading.

Diamond Clarity
This indicates how clear the diamond is from inclusions, this plays a big part in determining value. Inclusions may be; dark carbon spots, white crystal particles (which can cluster together to make 'clouds') and internal or external fractures. Man made defects by the cutter can also be taken into account such as polish lines or extra facets which may have been placed there to remove an inclusion. Diamonds can also be damaged, remember diamonds are extremely hard but will chip or fracture if struck hard enough. The grades for Clarity are shown below.

Common Grades
F: Flawless
IF: Internally Flawless
VVS: Very Very Slightly Included
VS: Very Slightly Included
SI: Slightly included
I1: Included 1
I2: Included 2
I3: Included 3
The number 1 or 2 can also be added; this represents the extent of inclusions, 1 being the cleanest. Number 3 is reserved for I grade diamonds, this represents a diamond with lots of inclusions which would be more noticeable to the naked eye.
Diamond Weight
Most people think of this as being the diamonds size, when in fact it is the weight. When looking at a single diamond; the heavier the carat weight, the rarer the diamond becomes and therefor more valuable (assuming all other grading criteria are equal). Carat/s is usually abbreviated to ct or cts. One carat equals 1/5th of a gram, in other words... there are 5 carats in 1 gram. You may also have heard a diamond referred to in points. There are 100 points in a 1.00ct diamond, therefore a quarter carat or 0.25ct diamond has 25 points.
Carat weight may also refer to the total weight of diamonds in a piece of jewellery. A diamond ring may consist of 10x 0.10ct diamonds or 100x 0.01ct diamonds and both would have a carat weight of 1.00ct (one carat) however the item with 10 diamonds would generally be more expensive, this is due to the fact that 10 larger diamonds are rarer than the equivalant weight of 100 tiny diamonds which makes them more valuable.
Here's where is can get complicated. During the diamond cutting process the cutter wants to get the heaviest diamond out of a rough stone, however this can come at the cost of lowering the cut grade. If a diamond is too deep, this will increase carat weight but results in a loss of brilliance due to light leakage. Diamond cutters have to compromise between finishing with the heaviest weight possible while still keeping good proportions. This is why you can have two diamonds of the same weight but one can be bigger than the other. A well cut 0.90ct diamond could have the same width as a poorly cut 1.00ct diamond (this is known as spread). These two diamonds however could be of equal value, which would you go for? Heavier weight or a higher cut grade.
Common Weights
0.25ct (quarter carat)
0.50ct (half carat)
0.75ct (three quarter carat)
1.00ct (1 carat)
Most diamonds sold in jewellery are under 1.00ct although diamonds can reach incredible sizes; the largest ever rough gem quality diamond was the cullinan diamond found at the Premier Mine, South Africa. This incredible diamond weighed 3,106.75cts, the diamond was split to create nine pieces, the largest piece is a pear cut diamond weighing 530.4cts and named the Great Star of Africa. It now resides in the Crown Jewels of England in the Royal Sceptre.
The word "carat" comes from the ancient practice in India where diamonds were first thought to have been discovered and traded, they measuring diamond weights with the one thing in nature that is both small and the most consistent in weight -- the carob seed. Thus the name "carat" evolved in the English language, which is still equivalent to approximately the weight of one carob seed. Carat weights are very precise, they are weighed to a thousandth of a carat then rounded off to the nearest hundred.
Diamond size chart: sizes are a guide only. Actual diamonds may differ depending on proportions.



Round Cut

Millimeters Approx

Carat weight

Points

1.0

0.005

0.5

1.3

0.01

1

1.5

0.015

1.5

1.7

0.02

2

1.8

0.025

2.5

2.0

0.03

3

2.1

0.035

3.5

2.2

0.04

4

2.4

0.05

5

2.5

0.06

6

2.7

0.07

7

2.8

0.08

8

2.9

0.09

9

3.0

0.10

10

3.1

0.11

11

3.2

0.12

12

3.3

0.14

14

3.4

0.15

15

3.5

0.16

16

3.6

0.17

17

3.7

0.18

18

3.8

0.20

20

3.9

0.22

22

4.0

0.25

25

4.2

0.30

30

4.4

0.33

33

4.5

0.35

35

4.6

0.38

38

4.8

0.40

40

5.0

0.50

50

5.4

0.60

60

5.5

0.63

63

5.6

0.65

65

6.0

0.75

75

6.4

0.95

95

6.6

1.00

100

6.8

1.17

117

7.0

1.25

125

7.2

1.33

133

7.5

1.55

155

7.8

1.75

175

8.0

2.00

200

8.4

2.15

215

8.6

2.25

225

9.0

2.75

275

9.4

3.00

300

9.6

3.15

315

9.8

3.35

335

10.0

3.50

350

10.2

3.75

375

10.4

4.00

400

10.6

4.25

425

10.8

4.50

450

11.0

4.75

475

11.2

5.00

500

12.0

6.50

650



Oval Cut

Millimeters

Approx

Carat weight

Points

4 x 3

0.20

20

5 x 3

0.25

25

5 x 3.5

0.33

33

5 x 4

0.40

40

6 x 4

0.50

50

6.5 x 4.5

0.65

65

7 x 5

0.75

75

7.5 x 5.5

1.00

100

8 x 6

1.25

125

8.5 x 6.5

1.50

150

9 x 6

1.75

175

9 x 7

2.00

200

9.5 x 7.5

2.50

250

10 x 8

3.00

300

10 x 8.5

3.50

350

11 x 9

4.00

400

11 x 9.5

4.50

450

12 x 10

5.00

500
Marquise Cut


Millimeters

Approx

Carat weight

Points

3.5 x 1.5

0.07

7

4 x 2

0.10

10

5 x 2

0.20

20

5 x 3

0.22

22

5.5 x 2.5

0.25

25

6 x 3

0.30

30

7 x 3

0.35

35

7 x 3.5

0.38

38

7 x 4

0.40

40

8 x 4

0.50

50

8.5 x 4.5

0.65

65

9 x 4

0.70

70

9 x 4.5

0.75

75

9 x 5

0.80

80

9.5 x 4.5

0.85

85

10 x 4.75

1.00

100

10 x 5

1.25

125

11 x 5

1.50

150

11 x 5.5

1.65

165

12 x 6

2.00

200

13 x 5.5

2.50

250

13 x 6

2.65

265

14 x 6.5

2.87

287

14 x 7

3.00

300

15 x 7

3.75

375

16 x 8

4.50

450

18 x 9

7.00

700

20 x 10

10.00

1000



Princess Cut

Millimeters

Approx

Carat weight

Points

2.00

0.06

6

2.25

0.08

8

2.50

0.10

10

2.75

0.13

13

3.0

0.15

15

3.25

0.20

20

3.5

0.23

23

3.75

0.25

25

4.0

0.30

30

4.42

0.35

35

4.5

0.40

40

4.75

0.50

50

5.0

0.63

63

5.25

0.75

75

5.5

1.00

100

6.0

1.25

125

7.0

1.60

160

8.0

2.25

225
Emerald Cut

Millimeters

Approx

Carat weight

Points

4 x 3

0.20

20

5 x 3

0.25

25

6 x4

0.50

50

6.5 x 4.5

0.75

75

7 x 5

1.00

100

8 x 6

1.50

150

8.5 x 6.5

2.00

200

9 x 7

2.50

250

10 x 8

3.00

300

11 x 9

4.00

400

12 x 10

5.00

500
Pear Cut

Millimeters

Approx

Carat weight

Points

4 x 2

0.20

20

5 x 3

0.30

30

6 x 4

0.50

50

7 x 5

0.75

75

8 x 5

1.00

100

9 x 6

1.50

150

10 x 7

2.00

200

12 x 7

2.50

250

12 x 8

3.00

300

13 x 8

3.50

350

14 x 8

4.00

400

15 x 9

5.00

500