Lloyds Family Jewellery Ring Size Guide
Quick ways to find your ring size
Quick jump to a section
Download a Ring Size Finder
If you already have a ring that fits but are unsure of what size it is you can download and print our ring size finder. This will help you find your ring size by placing your ring over the correct sized circle, full instructions of how to use it are detailed on the form.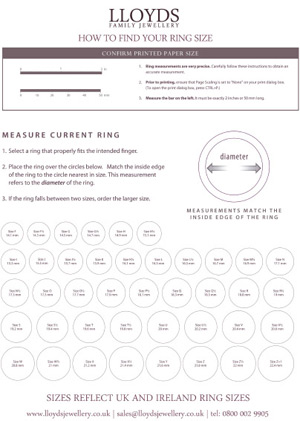 How Rings are Measured
We measure our ring sizes in the standard UK sizing system (Wheatsheaf). Each ring size corresponds to a circumference measurement and given a letter to keep it simple and easier to remember, below you can see how ring size dimensions correspond to each letter of the alphabet. Extra large ring sizes are named as Z+ (for example Z+1, Z+2 etc.).
UK SIZES IN MM
| | | | | |
| --- | --- | --- | --- | --- |
| F 44.2 | G 45.50 | H 46.50 | I 48.00 | J 49.20 |
| K 50.20 | L 51.50 | M 52.80 | N 53.80 | O 55.20 |
| P 56.50 | Q 57.80 | R58.80 | S 60.20 | T 61.50 |
| U 62.80 | V 63.80 | W 65.20 | X 66.20 | Y 67.80 |
| | | | | Z 68.80 |
How Your Ring Should Fit
Put simply your ring should fit your finger comfortably; snug enough so that it will not fall off or spin on the finger, but loose enough to slide over your knuckle without getting stuck. You may need to try some rings on or use a measuring set at your local jeweller which is basically a bundle of rings made to exact ring sizes.
Your Ring Size Can Change
Depending on your body temperature and time of day your ring size can change in a short space of time. For best results measure your fingers at the end of the day and when your fingers are at a normal temperature, fingers are smaller early on a morning and when cold and can be larger when warm.
Measure finger size numerous times and on different days to eliminate an incorrect reading. Take the average as the correct size.
Although string or paper is sometimes used to measure ring size, they can be inaccurate. You can purchase a ring Multi-sizer from us as shown below for accurate results.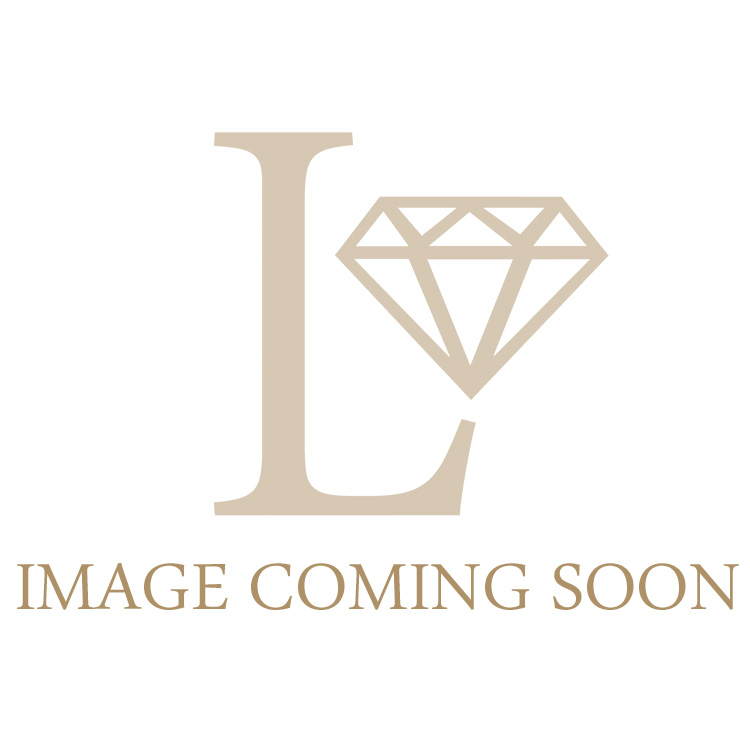 Popular Ring Sizes
Women's ring sizes typically range from size I to Q. The most commonly purchased women's ring sizes at Lloyd's range from K to N. Size M is the most popular ring size.
Surprise Ring Sizes
Ask close friends or relatives if they know his or her ring size. You could even try to bring ring sizes up in conversation at some point but be careful not to spoil any surprises, try to plan ahead. Borrow his/her ring and use the ring sizer above to find the size of it or if you have time, take it to a jeweller to check it. It should either be a ring from the correct finger or if it is an engagement ring try to find a ring from the 4th finger of the right hand; remember the ring size on the dominant hand tends to be a size bigger than the opposite hand.
Re-Sizing
If you have ordered the wrong size ring you may return it to us to be sized if possible* for an additional fee which is £25 on average (including postage) this fee may vary depending on the type of ring and sizing required. If we already stock the new ring size we will offer to exchange the ring for you.
*Be careful; certain rings such as full eternity rings cannot be re-sized. Some rings are adversly affected by re-sizing so each ring is looked at on a case by case basis to determine if resizing to your required size is possible, the reason being is that diamond settings on shoulders can be affected when making a ring larger or smaller.
If you are ordering a full eternity ring or a tension set engagement ring for example make sure you know the correct size.
Ring Size Returns
We accept returns or exchanges on rings between sizes J-Q; all other sizes are non-returnable unless prior arrangements have been made with us.